Roulette Articles And News: European Roulette, New Game, InterCasino, Upgrade, Single Player



December 23, 2008.
New European Roulette Single Player Table Game At InterCasino.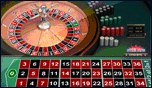 Cryptologic's European Roulette has also been given the once over and is now back, bigger and better than before! With lots of upgrades and extra features, players' Roulette gaming experience will be improved ten-fold. Have a spin now and see if you can hit some big cash prizes on the upgraded single player roulette table.
European Roulette uses a wheel with 37 pockets; the numbers 1-36 and one 0. Bets can be placed on single numbers or combinations of numbers, thus offering online casino players the potential to win up to 35 times their bet.
Players select chips and place a wager. The bet area on the virtual roulette table will show a highlight indicating where the chips will be placed. Hovering over a bet position will produce a tooltip indicating the name of the bet, the odds it pays, and the amount of the current wager on that spot.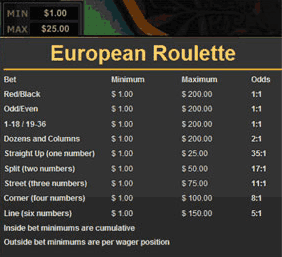 New European Roulette game features a 'View' button that allows players to toggle between the classic and pro-view options. All of the rules and features remain the same regardless of which view you prefer to use.
Table Limit Sign
Moving the mouse cursor over the table limit sign produces an enlargement that shows information about the table limits for the game. The maximums for each position are European-style with different amounts depending on the payout odds for a given bet.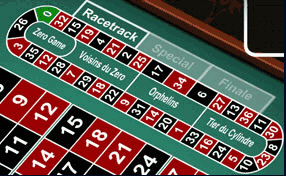 Racetrack
European Roulette also has a feature called the 'racetrack'. A small oval-shaped area that represents the numbers on the wheel in the order they appear. Click on a racetrack number to place one chip on that number, plus one chip on each of the two 'neighbors' on either side of that number for a 5-chip wager. Four of the common special bets can also be placed via the racetrack feature.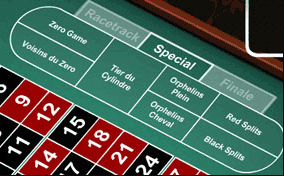 Special Bets
The Special Bets tab allows access to 7 combination bets commonly found in European or French Roulette game variants:
Special Bet Name - Chips - Positions
1. Voisins de Zero (Serie 0/2/3) - 9 Chips - 0/2/3 (2 chips), 25/26/28/29 (2 chips),4/7, 12/15, 18/21, 19/22, 32/35
2. Tier du Cylindre (Serie 5/8) - 6 Chips - 5/8, 10/11, 13/16, 23/24, 27/30, 33/36
3. Orphelin Plein - 8 Chips - 1, 6, 9, 14, 17, 20, 31, 34
4. Orphelin Cheval - 5 Chips - 1, 6/9, 14/17, 17/20, 31/34
5. Zero Game (Zero) - 4 Chips - 26, 0/3, 12/15, 32/35
6. Red Splits - 4 Chips - 9/12, 16/19, 18/21, 27/30
7. Black Splits - 7 Chips - 8/11, 10/11, 10/13, 17/20, 26/29, 28/29, 28/31.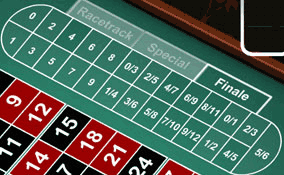 The Finale Bets tab allows access to bet combinations based on the last digit of the numbers on the wheel layout.

Autoplay Feature
European Roulette also contains an autoplay feature. Select 'autoplay' from the interface to instruct the game to play a selected number of spins automatically. You may also customize and save your betting layouts for use with the autoplay option.

Zero Rule
Some European Roulette games in the casino include the player-favourable 'Zero Rule'. 1/2 of all 1:1 odds outside bets will be returned to the player if the winning number is zero.

You can play the new European roulette game at InterCasino or CS Casino. Both online casinos offers monthly deposit match bonuses up to $100 free. InterCasino offers great welcome bonus up to $225 free on sign-up. Download free casino software now.


Related Articles:
1. New Euro Roulette Revolution and Reload Promotions At..

(15/05/2008)


2. European Roulette Gold Game In New Microgaming Releases For May

(28/04/2006)


3. The History Of Roulette By Damian Sofsian

(13/12/2005)


4. New European Roulette Game In October Microgaming Releases

(30/10/2005)



Back to articles Page 2

Roulette Articles And News From Online Casinos:
Page 1 Page 2 Page 3 Page 4 Page 5 List Of All Roulette Articles