Roulette Articles And News: VIP Roulette, William Hill, Jason H, Big Winner, Jackpot



December 3, 2009.
True Inspirational Wins For The Winners At Heart - Jason H Wins GBP1.4 Million.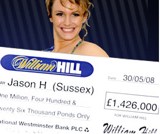 One of William Hill Casino's most inspiring winner's stories is that of Jason H from Sussex, who won no less than £1.4 million at his casino favorite, single player Roulette! Jason H has been playing Roulette every week for three years, yet this is his first major win. Jason H won the breathtaking amount during a lucky run when his favourite number '23' came up several times in a row.
VIP Roulette is Crictologic's newest offering, where players can take advantage of one of the highest limits available online. With stakes starting from £1 right up to £100,000 a spin, this is truly a Roulette game that everyone can enjoy.
The William Hill Casino staff had a chat with Jason H about his inspiring roulette win, and this is what he told us: "I'm absolutely stunned about my win - I've never really won anything significant and this is just an incredible amount of money! I'm stoked! I still don't know what I'm going to do with it, but I'm thinking of taking my family on a holiday. I'll probably invest some of it, but hopefully I'll just enjoy it as much as possible! I've never had such financial freedom; I feel I'm in heaven!"
Jason H is William Hill Casino's third big winner this month, and proof of just how easy it is to get lucky at your favorite online casino game. So don't wait around for the money to find you - start playing today and see how easily you too can become a big winner at William Hill Online Casino.
William Hill Casino offers the widest range of casino games available along with some of the internet's biggest jackpots, including Blackjack, Craps, Roulette, arcade games and a heap of different slots. With so much to choose from, it's never been easier to win big at your favorite online casino game!
Source: William Hill Online Casino
Related Articles:
1. Delores Wins Big Roulette Jackpot At Bodog Online Casino

(28/03/2007)



2. Lyn M Wins 10,000 British Pounds On Gold Fever Scratchcard Game..

(10/03/2006)



3. John D Wins 14,500 Pounds Sterling Progressive Jackpot At..

(21/04/2005)



Back to articles Page 2
Roulette Articles And News From Online Casinos:
Page 1
Page 2
Page 3
Page 4
Page 5
List Of All Roulette Articles