EUROPEAN ROULETTE - REALTIME GAMING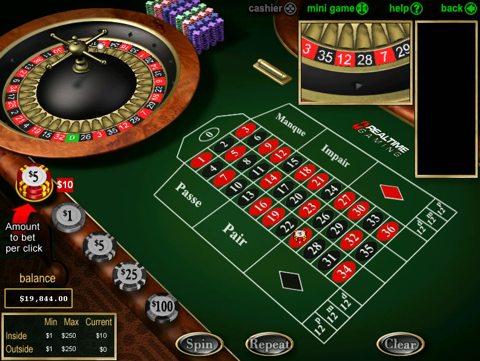 This European Roulette game is similar to American Roulette except that the table is laid out in the traditional European format. The wheel has 38 numbered pockets (partitions) ranging from 0 to 36, e.g. the Roulette wheel and table each have only one "0" on them. The house edge is rather small - 2.70% in this game.
The rules
The outcome of Roulette is determined by where the ball stops on the Roulette wheel. Once the bets are placed on the table, a small ball is released on to the spinning Roulette wheel, in the opposite direction to the spin. The ball stops in one of the numbered pockets of the wheel. The ball can land with equal chance in any of those stops.

The goal of this one of the oldest and most popular game of chance is to predict the number the ball will stop at. You place one or more bets on numbers, color and/or sector(s). See roulette terms to find out all available bet types.
Players make wagers by placing chips in the betting areas of the Roulette table. After all bets are placed, the ball is spun and eventually lands on a number. Bets placed on the winning number or on groups that include the winning number are paid a multiple of the bet. The house collects all other wagers.
I hope you will enjoy this exciting table game with stunning 3D graphics and real life digital sound effects. You can find European Roulette at most of the RealTime Gaming online casinos.
See Review Of European Roulette Game From Microgaming ►
Download & Play roulette at this RTG online casino:

Related Sites: Blackjack 101 | Roulette Jackpots